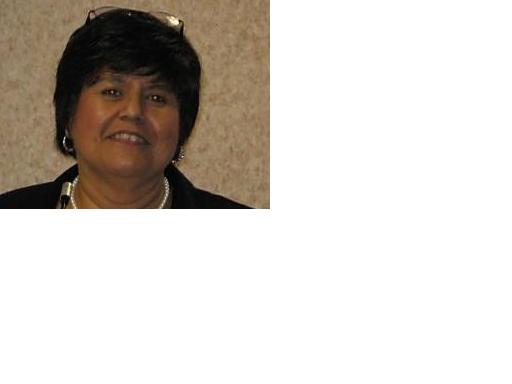 The following are short stories about the Herrera Family and their union organizing experiences as told by family and written by their eldest daughter Lupe Herrera.
March 31, 2011
Today, March 31, 2011 in the City of Denver, Colorado Cesar E. Chavez's birthday is celebrated by all city and county employees. In the State of Colorado and throughout the Southwest people pay tribute and homage to the ideals of justice and humanity that Cesar E. Chavez made as one of Americas' greatest leaders to improve the lives of farm workers which started in California and moved globally. Cesar Chavez taught me and my family how to go from the fields of California to the urban cities to strike and boycott non-violently.
There are so many of our children that aren't aware of the people who lost their lives, were beaten or incarcerated to make conditions in the fields better for those that pick our fruits and vegetables. My Mother, Juanita Herrera was one of those women; she lost a child due to the chemicals in the grape fields of California back in the 70's. This has not stopped her; she still speaks at events as shown in this picture at the 9th Annual Cesar Chavez celebration in Denver, Colorado in 2010. This year she will be speaking at the Federal Offices of Environmental Protection Agency. As an organizer my mother Juanita Herrera proved to be a ball of fire, passionate in the cause. She would tell her stories at churches, union meetings, and schools all over the city of Denver 1968 – 1970.
I and my siblings would sell union buttons, El Malcriado (the union newspaper) and bumper stickers for a quarter back then to raise money for the boycott. As we grew up with the movement Cesar believed that the movement was a familia affair. He would take time to train entire families at La Paz for the second boycott in 1973. We would do role playing and he would participate while coaching us. I remember this one time, my sister Isabel at the time was 12 years old did a little role playing with Cesar Chavez. She was playing the role of a picketer trying to convince a customer not to buy grapes in front of a store. She started out by passing out fliers to people that would come up to the make believe entrance and Cesar would play the customer going into the store. Her job was to convince him not to buy grapes or go to a different store that carried union label grapes. Cesar was relentless, he tried his hardest to get through that imaginary door and my kid sister was just as relentless in trying to keep him out or to go to another store. These are the memories I have of Cesar, a brilliant man that took the time to train me and my siblings to work on a boycott. We were stationed in Baltimore, Maryland during 1973; I have photos where we would be picketing in front of an A&P store. My Mother gave birth to my kid sister Celestina in October 1973, there had been a wager placed for the first boycott baby born; apparently there were several women
pregnant that year that headed out in a car caravan from California to Washington DC stopping in different cities to leave families in those cities. My kid sister won the $100 prize offered by the union for being the first boycott baby born on October 1973. My Mom enjoys telling her story about her boycott baby. During this time my Mom took ill after having my kid sister and we decided to move to Denver, CO where we knew people from the first boycott.
We settled in West Denver, in the La Alma Lincoln Park Neighborhood where both my parents still reside. They live approximately ½ mile from downtown where they bought a home in 1973. Through HUD and the City and County of Denver my parents qualified for an emergency home repair loan $3,500 deferred for 10 years to replace 26 window panes that were missing from our home. The house had 26 pieces of plastic to keep the wind and snow out that first winter. The furnace was replaced, as well as the roof and new electrical wiring was placed throughout the house. I wish to take a moment to thank Cesar Chavez for teaching my family to organize and work for justice for all people. I wish to thank HUD and the city of Denver for the assistance they provided to improve the family home. Happy Birthday Cesar, you are missed. Guadalupe Herrera - continues to pay it forward. Viva the Latino Network, keep it alive.

Juanita Herrera, Activist
Iphone photo by Guadalupe Herrera

Juanita Herrera, began her public speaking on the side roads talking to strike breakers (esquiroles) working in the fields in the San Joaquin Valley. Picture by John Lewis.
March 31, 2010
Cesar Chavez was a great Leader; his work with the Farm Workers of California and though out the Country impacted the lives of all people of every race, age, color, religion, and all the other protected classes. He was a great civil rights leader and it is nice to see that he is being honored by the White House. I am proud to say, I had the opportunity to personally work with him in my lifetime. My parent's Alfredo and Juanita Herrera where union organizers back in the 60's and 70's, last weekend my Mom was the keynote speaker at the 9th Annual Cesar Chavez Award Celebration in Denver at the Denver Civic Theater. She gave a great speech, at the age of 73 she can still motivate people to loud cheers, applause, chanting and whistling. I videotaped her speech on my iPhone and realized that this is the first time I have ever recorded one of her speeches.

Alfredo Herrera walked from Delano to Sacramento he is pictured her with a white hat in the front line.
A few years back, I asked my Dad, Alfredo Herrera how he got involved with the Farm workers. He told me the following story:
A young woman by the name of Dolores Huerta would come around to where the people were working in the fields. While my Dad was clearing the weeds from around the grape vines, she would walk along side of him, and other farm labor workers asking them about their young families, and what it took to raise a family on 90 cents an hour. He remembers she asked a lot of questions, and in the end convinced him to go to a neighborhood yard meeting in our hometown Earlimart, California located 7 miles north of Delano. Dolores came to talk to all of those that came to that meeting about starting an organization of farm laborers to ask for better wages and working conditions so that they could raise their families. My father did not jump at the opportunity right away. He was worried because he had a wife and 4 small children to support, and the union did not have the resources yet to provide for his family. It took more than one meeting and my Mother's influence to get him to join a historical effort that was being planned by none other than Cesar Chavez. My Dad walked the 300 mile march that started in Delano, California to Sacramento (the State Capitol). It wasn't until my Dad reached Sacramento, and he witnessed the tens of thousands of people all cheering them on and the news reporters that he realized that what he had agreed to do was something big and important. I am proud of both my parents against all odds they managed to make a better life not only for their children, but for future generations. My Mother is the first to tell people that she was educated by Cesar Chavez and Fred Ross for organizing in the fields and later organizing a boycott. Many of the original organizers have passed away; my Mom and Dad are now living in Denver, CO where they ran their first boycott office.
Alfredo with sunglasses and the American flag.
Everyone took their turn carrying Our Lady of Guadalupe on the march to Sacramento, Alfredo is 26 years old in this picture.
Alfredo Herrera at the 40th Reunion in La Paz, CA
Alfredo Herrera is now 73 years old, retired; he has a pension from Denver Public Schools where he worked as a custodian. His social security is based on the forty quarters he worked from the time he was young never making more than $1.65/hr.

Alfredo and Juanita Herrera at the 40th Anniversary for the United Farmworkers.
My Dad, Alfredo Herrera told me about the new shoes the marchers received after their shoes wore out. He was so happy to get a new pair of boots, real good quality boots. He and many of the marchers learned that new is not necessarily better, the boots created blisters that incapacitated him from walking. The doctors told him he had to go home. My grandfather, Cresencio Herrera treated my Dad's poor feet with an herbal plant mixture that only kept him home one night and he was back marching after the blisters popped the very next day. My Dad would say, "I was younger than Cesar Chavez and he too had blisters and he kept walking. I was not going to stay out of the march, when Cesar was walking with terrible blisters." Cesar led by example, which a young 26 year old, Alfredo Herrera remembers well.
I always wondered how my father was able to keep to the non-violent side of the movement. He was a young Mexican-American man and was not afraid of trouble. I found out that Cesar's first fast was the reason for his commitment to keep things non-violent. He pledged to Cesar Chavez that he would follow his example. My Mom and Dad are now living in the Westside of Denver, CO only blocks away from where they ran their first boycott office.
November 20, 2011
Last year my family celebrated my Mother's 75th Birthday, we put together a slide show from old photos taken by my Mom while we were researching looking at old family albums we came across a website of old union photos taken by many different union photographers. One union photographer whom both my parents knew well was Jon Lewis. He took many photos and as people are putting these photos on the website, we are missing names to some of the faces. We know the popular folks, such as Richard Chavez, Dolores Huerta but there are so many pictures that do not have names to them. This is my family's effort to help the organizers of the web site to identify some of my family members.
Maria Del Rosario Herrera age 3 years old is the fourth child of Alfredo and Juanita Herrera. She was instrumental at the age of three to cause terror in liquor stores in and around the San Francisco Bay area. When Alfredo and Juanita began their training for organizing the boycott they would take Maria who was not yet in school on the road with them. Maria had the knack for bumping into large displays of Gallo wine sold at the liquor stores while my Mother would be talking to the owner trying to convince them to take their wine off the shelf. You can imagine Maria was effective at getting the liquor store owner's attention.

Picture by Jon Lewis

Picture by Jon Lewis
As kids growing up, we thought the commissary was the grocery store, we did not understand that the food was donated or that it was free to the farm workers who were part of the strike. Our parents made $5.00/week and the union provided a weekly stipend for each of the kids. We all had our own union cards, which our mother kept for us. None of us have forgotten the values and lessons learned growing up. When Robert Kennedy and Dr. Martin Luther King were assassinated in 1968 my Mom had all of us wear black ribbons to school in memory of the terrible loss.
My Mom, Juanita was always cooking at the Filipino Hall. Many times our grandparents Blas and Antonia Perez would watch us while my parents were out on the picket lines. I remember my Dad talking about their trip to New York City to learn about organizing. My Dad, Alfredo would tell us that it was so hot in New York that you could fry an egg on the sidewalk or that it was so cold, spit would freeze before it landed on the ground. We loved to hear our Dad's stories when they got back.
My father did not know English in the 60's and 70's, nor could he read or write. Much of what he learned was kept in his heart and he would memorize what he learned. My Mother on the other hand knew both English and Spanish and together they were a team. My Mom would do the talking and my Dad would do the driving. My Mother never learned to drive a car and relied on my father for all her transportation. She is great with public transportation, traveling by plane, and the greyhound.

Picture by Jon Lewis
This is one of the pictures taken by Jon Lewis about the children of the Huelgistas, we never knew this picture existed until we came across the web site for all the union photos. I don't think we would be able to say thank you enough to Jon Lewis for capturing the innocence of the time. Prayer: Jon Lewis as you look upon us please know your work continues to reach the hearts of our family and our children's children.
Picture courtesy of Union photographer
The sixties were difficult for Spanish speaking kids in California; we had a governor that promoted English only in public schools. While attending Earlimart Elementary, my parents were asked to sign a contract with the school that would stipulate they would only speak English at home. Our parents refused to sign any such document, at the time Spanish was the main language spoken at home. If the State of California has gotten its way, we would not be able to communicate with our parents and grandparents, cousins, uncles, aunts and neighbors who spoke Spanish as their primary language. In the end, Spanish has been good to us; we are bilingual and can communicate with family in Mexico, Texas, Tennessee, Washington DC, California, and Pennsylvania. Due to my parents denial to sign any papers prohibiting Spanish to be spoken at home many of us were held back one year. Looking back, that was probably the best thing that could have happened to us growing up. The Spanish language is important in our family and it continues to be important.
The cousins…

Growing up my Mom Juanita Herrera would take us to mass at the 40 acres this picture was taken before there were any buildings on site. We also prayed in front of the Digiorgio labor camp. I remember singing, "Bendito, Bendito and Oh Maria, Madre Mia. There was so much spirituality in the music. The picture above shows my Grandmother Antonia Perez standing next to Lupita, my Mom, Juanita Herrera and the four Herrera children Lupita, Isabel, Rosario and Freddie.
In the back you can see, Rosario age 3 years standing on my Dad Alfredo Herrera's lap. She got to go to a lot of meetings because she was not yet in school. The rest of us had to stay home from meetings held on a school night. I remember attending a lot of Friday, night meetings at the Filipino Hall.

Blas Perez age 56 years old looks much older than he really was in this color portrait by Jon Lewis you can see how handsome he was. Here he is holding Our Lady of Guadalupe and he is resting. My Mom Juanita never saw this picture before; I showed her a copy of this picture on the computer she was so touched that his picture lives on. Thanks again to John Lewis.

Antonia Perez at a union meeting holding a paper union flag

The Herrera Children: Freddie, Isabel, Rosario and Lupe
The family never knew this picture existed, Jon Lewis must have taken it while we were waiting for my Mom and Dad to march by. I was the oldest and my job was to watch over my siblings while we waited in the car for the marchers to come marching by. We would walk a little bit, but for the most part we had to stay in the car. We did a lot of waving and yelling by the side of the road from the car. There were times when my Mom and Dad would load us up in the car still sleeping or groggy early in the morning to go out to a meeting or a picket line. My Mom was good about making each of us a breakfast burrito at the Filipino Hall.