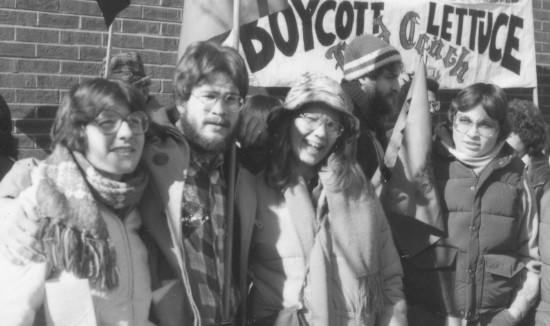 Throughout the 1970s and into the 1980s I was a very active boycott volunteer and also assisted with organizing efforts in Illinois. As a junior transfer student to Illinois State University in the fall of 1973, I went to St Robert Bellarmine Newman Center, the Catholic student center at Illinois State U. They were recruiting students to write for their newsletter, so I showed up at a meeting. Verna Avila, a young Filipino, was leading this and gave us a writing assignment: "Come to the farmworkers' picket line tomorrow at the Eisner's store & write about the experience." I was the only one to show up. I quickly learned about the farmworkers and a month later we had a rally on campus with Marcos Munoz, who came down from Chicago. After that I was organizing boycott picket lines outside of grocery & liquor stores (Gallo wine boycott). We organized a student support group, made our own UFW flags with "Normal Illinois" on them. We traveled to Chicago for rallies, working with Eliseo Medina when he was in Chicago. We took two carloads to Washington DC for the National Student Mobilization in support of the Farm Workers, where Cesar spoke (I think that was 1975).
Our student group had some very talented people; we would bring guitars to rallies in Chicago and lead in singing farm worker and union songs; Guy Costello christened us as the "Bound for Glory Singers." We also performed small street theater pieces, based on the Teatro Campesino plays. Besides the Catholic students at the Newman Center, under the late Rev Joseph J Kelly, we also involved the Association of Latin American Students on campus. We brought Dolores Huerta to campus in 1978 (and again a few years ago). We continued this into the 1980s. My wife jokes that our "first date" was my invitation to come out for a picket line. When Guy Costello and Alice Thompson came to run the Chicago office, they became close friends with whom we keep in contact today.
Through these activities, we became good friends with Olgha Sierra Sandman, staff of the Illinois Farm Worker Ministry and a national officer of the Farm Worker Ministry. Another good friend of the time was Rev David Koehler of the NFWM, today an Illinois State Senator from Peoria. Another great friend from the period is Tom Kilbride, who was a UFW staffer in Chicago and also in California. Tom is now Chief Justice of the Illinois Supreme Court.
Through Olgha we worked on the Illinois Farm Worker Organizing Project; in 1981 Cesar came to Illinois and we opened the Farm Worker Service Center in Onarga, Illinois, a nursery growing area, to try and organize the workers there. It was a far-flung branch of the UFW efforts and without a legal right to organize, never succeeded totally. But we were able to politically mobilize and pass an Illinois field sanitation law and also aid the workers in legalization. Fr. Charlie Kyle of Chicago was a great leader in this effort along with Olgha and Sister Mary Lolita (unfortunately, I don't remember Sr. Lolita's last name). When my wife Kari Sandhaas & I married, we asked that instead of wedding gifts, that donations be made to the organizing efforts in Onarga.
We still talk about the farm workers and the needs of the workers. I have many black and white photos of Chicago rallies and from the efforts in Onarga, if any of those are of interest. I can also send a paper I wrote about the Onarga efforts.