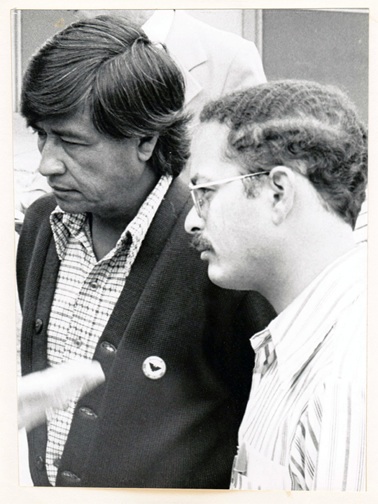 I first became active with the United Farm Workers at the age of 19, as an undergraduate at UC Irvine in the late 1960s, picketing Alpha Beta and other supermarkets after class, on weekends and during school breaks. Since then I've earned two college degrees. But the most important lessons I learned in my life came from working with Cesar and the movement…lessons about commitment and sacrifice, about what it means to be part of a cause that's bigger than you are.
I knew Cesar the last 24 years of his life. For much of that time I served as his spokesman, speechwriter and personal aide. It is still my privilege to serve as a spokesman for the UFW and as communications director for the Cesar Chavez Foundation.
Several years ago someone asked me how a nice Jewish boy like me got hooked up with the likes of Cesar Chavez. I replied that history has always been a love of mine; my undergraduate degree from UC is in American history. It was a keen interest in farm labor history that I shared with Cesar. But once I met him, got to know him and understand what he was trying to do, I figured out it would be a lot more interesting to be a part of history than to just read about it.
No one can live in the past. There's an old saying that, "The time and tides wait for no man." But all of us stand in the shoes of those who came before us. For those of us in the farm worker movement, there are some very big shoes to fill. I don't just mean people like Cesar Chavez. The best thing that ever happened to me was the honor and privilege of being associated all these years with so many good men and women, most of whom are not famous, who worked with me in the movement.
When I think of the long road we have traveled together all these years what comes to mind is that passage from the Book of Ruth: "Where you go, I shall go. Your people shall be my people. Your God shall be my God."