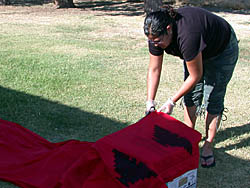 My favorite UFW experience takes place at the 40 acres in Delano in 2006. A few weeks before Camp Justice came into fruition, my then supervisor, Giev Kashkooli was dreaming about a camp site where we would invite people from all over the country to the 40 acres to help us organize. And I said, "I want to goooo!" Next thing I know, I'm in the historic 40 acres in Delano setting up a camp site for 100 organizers with tents, making flags, taking care of meals, and the list goes on and on. I was running around Delano requesting donations of food and water from all the local merchants which in turn, were awarded a certificate of appreciation which they all proudly displayed—right then, I learned that it's really about the small tokens of appreciation for many! I had so much fun taking care of the volunteer organizers and the camp site. It wasn't easy but it was worth it! We worked from 5 a.m. to 11 p.m. day in and day out.
I made long lasting relationships at Camp Justice and to this day I keep in contact with many of the organizers I had the pleasure of working with at the 40 Acres.
One day a black stray kitten followed me from the Agbayani Village to Camp Justice and was quickly adopted by many as our camp mascot so we named him C.J., short for Camp Justice. He quickly made himself at home and entertained many of the volunteer organizers and he knew exactly how to soak up all the love and attention that he needed. And at the end of Camp Justice, I was so in love with him, I brought him home! :)
Long story short, we need Camp Justice 2013! Who's with me?
¡Que Viva La Causa!