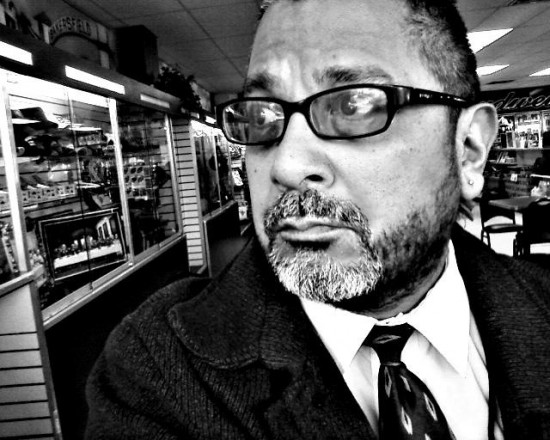 By Leonel Martinez
People rightly laud Cesar Chavez as a man of action, but I most admire him as a man of spirit.
In the 50 years since the creation of the United Farm Workers, people have hailed the union's cofounder as a social activist, cultural icon, and shrewd labor leader. All those terms are appropriate, but I also fear that without the proper perspective, they can overshadow this fact: At the center of all Chavez's efforts was his religious faith.
Because Chavez died in 1993 at age 66, it's easy to forget that what the press sometimes called "hunger strikes," he considered religious fasts, his marches were "pilgrimages," and those who knew him remember that he rose almost every morning before dawn to climb a hill near his Keene home to pray and meditate.
And that's why after four decades of observing the UFW, first as part of a farmworker family, then as a newspaper reporter, and finally as a supporter, one of my most cherished possessions is a black-and-white photograph of Chavez dressed in a tracksuit and sitting cross-legged on a boulder in meditation. This is the Cesar that we must never forget, the one whose social activism was rooted in faith and prayer.
"He knew that his work couldn't happen without prayer and meditation," explained Paul Chavez, who heads the National Farm Workers Service Center, founded by his father. "I call him a practical idealist. He knew that there's a balance to everything. He was a practical pragmatist in daily life, but he was also guided by this spirituality."
In combining prayer and political action, Chavez knew what many people of faith are just rediscovering in the 21st Century, but people like the Rev. Martin Luther King Jr. always knew: You can put your hopes in heaven, but believers must also work for justice in this world now.
In fact, Paul Chavez recalled that his father often repeated a saying that became almost a personal motto: "We're gonna pray a little, and we're gonna work a lot."
The Rev. Ken Irrgang, a retired Catholic priest from the Diocese of New Ulm, Minnesota who spent 12 years working with the UFW in Keene, said faith was at Chavez's core.
"Religious life was fundamental to him," said Irrgang in a telephone interview. "In a sense, it was just natural, but it was also more than natural. It was not cultural for him. It was spiritual."
When Chavez traveled the country, he always found local church so he could pray or attend services. And although Chavez's religious beliefs in some ways reflected his traditional Catholic upbringing, he wasn't a religious fundamentalist. He admired and freely borrowed practices from other religions.
"He would do a lot of the real traditional Catholic stuff, but he didn't have a problem with doing yoga or reading about Hinduism," recalled Paul Chavez. "He was deeply rooted in Catholicism. He was a defender of it, but not to the point that he would diminish or be critical of other religions."
Yet the traditional devotions were also there. Chavez was intensely devoted to the Virgin of Guadalupe. Virtually every activity organized by the UFW displayed a symbol of Guadalupe. A banner of her flew before every march.
That devotion remains even in death. A statue of Guadalupe stands watch over Chavez's gravesite along with one of St. Francis of Assisi, and images of the Virgin adorn the reconstructed rendition of his office at the National Chavez Center in Keene.
Those symbols are fitting for a man who was honored by Pope Paul IV for putting the church's social teachings into practice.
The fusion of spirituality and activism came naturally for Chavez.
"While most people drawn toward liberation or radicalism leave the church, I went the other way," he told author Jacques Levy in "Cesar Chavez: Autobiography of La Causa," considered by many as the best work to date about the union's early work. "I drew closer to the church the more I understood."
The book, "The Gospel of Cesar Chavez" goes even further, quoting the labor leader as saying, "Today, I don't think that I could base my will to struggle on cold economics or on some political doctrine. I don't think there would be enough to sustain me. For me, the base must be faith."
It's no surprise that Chavez grew up immersed in Catholicism. During his childhood in Yuma, Arizona, he learned to pray from his parents, Librado and Juana.
His mother also taught him the basic principle of nonviolence, that it takes two people to fight.
Chavez also learned about the Catholic Church's social teachings from a Catholic priest from San Francisco named Father Donald McDonnell in the 1950s. He read various papal encyclicals on labor as well as the teachings of St. Francis of Assisi.
Yet despite his life of commitment to political action and religious practice, Chavez wasn't a saint, at least not in the traditional sense of the word. Paul Chavez remembered his first reaction when a group from San Jose initiated an effort to have the Catholic Church canonize his father: No way.
"My dad was a man," Paul Chavez insisted. "He cursed and got pissed off."
But when a priest explained that saints are not perfect people, but fragile human beings, often with strong personalities and deep flaws, he reconsidered.
"The way it was explained to me, it was that they (saints) are those that live their lives for others," said Paul Chavez.
"Yeah, that's what (my father) was."