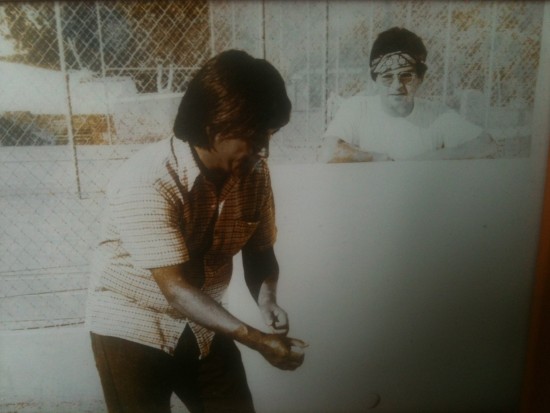 I first met Cesar with I was with the RCAF; Royal Chicano Airforce, and Cesar had asked us to help him by building a greenhouse at La Paz. This was around 1973. After completing the work, I asked Cesar if I could stay and volunteer. I had had some knowledge doing data entry and worked in the department for short while. I had become friends with Frank Curiel, and he suggested that I transfer over to the security department as a guard. One of the duties was to drive Cesar to many of the meetings he conducted. This meant leaving in the middle of the night and going to various places throughout California and Arizona.
I remember driving for Cesar, and he would often tell jokes, and they were so corny, one would have to laugh. When I would tell him Cesar that joke is so corny, he would just laugh and laugh, that you couldn't help but join in with him. That in itself was a most joyful experience. He also, had this habit of turning off the CB radio because he didn't like the chatter. The radio was used to warn the head driver carrying Cesar that there was a highway patrol car coming, or to be aware of a suspicious vehicle approaching and to allow the rear vehicle to get into a defensive position. Anyway, Cesar had turned down the radio and of course a highway patrol car pulled us over, and fortunately Cesars notoriety got us only a warning. Afterwards the rear driver asked why I had not heeded his radio signal? I explained Cesar must have turned down the radio. It was always a new adventure taking Cesar all over California and Arizona, and we always bought pumpkin seeds and RC diet Cola…Cesar was very particular about these two items…As the picture depicts, Cesar loved to play handball, and we, his security got to play.
I remember Cesar had a speaking engagement at Pepperdine University in southern California, and we called their gym department and arrangements were made so Cesar could play some handball before he spoke…it was quite the treat. It was really fun as well as long hours driving for Cesar. I remember we went to Los Angeles and Cesar had a meeting with Warren Beaty at his home. Beaty was really a very hospitable fella, he welcomed us and then said to us that his staff would care for any of our needs like drink or food, and that if there was a knock at the door to just answer it and inform whomever it was that he was in a meeting. Well before long there was a knock at the door and there was this beautiful woman asking for "Warren", of course, we told her that he was in a meeting, but that we'd be glad to take her phone number, she said she would come by later. I remember taking Cesar to fund raisers to homes of prominent people like Tom Hayden, and the character that played Archie Bunker, Carol Oconnor, and there were many other individuals there like Rhoda, and others who play various characters in movies and TV. The most wonderful thing was when we would go to farmworkers houses, and the hospitality and humility demonstrated by these individuals showed their commitment to bettering theres' and their families lives.
When we were in Monterey county we always went to the Amezcua's, as many of you are aware they were strong supporters and workers for Paul Mason vineyards. Genaro was the patriarch and very close friend to Cesar he would always have a BBQ or botana (snake) for us, and it was so rewarding to hear their experiences and hope for the struggle.
I also remember when we were going to Sacramento, and I called my mother to ask her if she would prepare lunch for us and we would stop by. Of course, she agreed, but her delight was the fact that she fed Cesar Chavez! Cesar loved everything prepared, and I explained to mom that Cesar is vegetarian, she said no problem , being the wonderful mom (jefita) she made chile rellenos, arroz, frijoles, and flour tortillas. Afterwards, Cesar commented that the cooking reminded him so much of how his mother used to cook. You know I didn't have the heart to tell Cesar that mom cooked just like his mom because she used lard to cook the frijoles, and tortillas…pues ni modo.
I stayed with security for a couple of years, and then went on to work in the legal office. I left the UFW in 1978, and worked for Pacific Telephone for a couple of years and was a union steward. Working in the legal office of the UFW and being a union steward gave me the experience and knowledge to be able to go and work for the State of California with the Agricultural Labor Relations Board from 1981 until 1990. I then transferred over the State Labor Commissioner where I retired as a Senior Deputy Labor Commissioner in 2006.
Cesar taught me about service work and proprietorship to sacrifice one self in the interest of others. I feel very grateful I was given this opportunity be a volunteer with the United Farm Workers and to have gotten to know Cesar, for this I will be forever grateful.