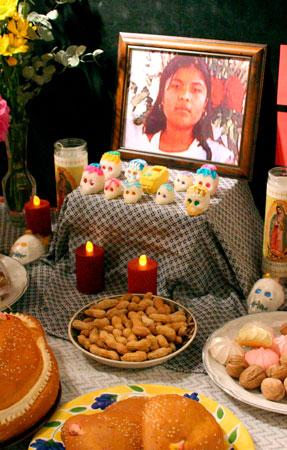 On May 14th, 2008 Maria Isabel Vasquez Jimenez of Oaxaca died in Stockton California picking grapes. I was part of a pilgrimage that went to Sacramento to demand that the laws in the books be enforced. She was the first death, 9 more lives were to be taken by the end of the harvest. I wrote this piece upon the return of the week long pilgrimage, she was 17.
Ella vino desde Oaxaca
Un lugar bello donde quien puede escapa
A los campos de Califas donde el Sol
Cobija de los pobres ataca!
Mixteca que trabaja con Purépecha
Y Huichol
Cual sueño Americano?
Aquí la vida es supuestamente mejor,
Pero no
Aquí
Puro sufrimiento, no miento
Lo siento, seguirás afuera por más
Que estés adentro.
Quien le dirá a su pobre mama;
"Su hija murió en la pizca"
No entiendo
Cada vez que veo la uva
Pienso en esta sociedad
No ciega, sino muda
Los que tienen papeles no sufren
Y creo que por eso no ofrecen ayuda.
Quien es María Isabel Vásquez Jiménez?
Pues, ella se convirtió en martirio
Sin querer.
Que será nuestro deber?
Dicen muchos que componer esta sociedad
Es imposible
Quien va defender a una clase invisible?
Promesas falsas cuando gritan,
"El pueblo vive
La lucha sigue!"
Hay un ataúd con rumbo a Putla De Guerrero
Su nativo pueblito
Esta es una cruel realidad no pensé
Pudo ser escrito
No creo que supo que dentro de ella
Tenia un pequeñito
Se despidió sin decir un ultimo adiós
Símbolo de una gente obrera que algún día
Tendrá su voz.