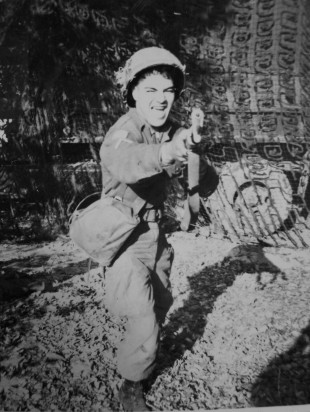 Coming back to California in 1964 after serving in the military most of my friends had moved on to their careers and started families. Being a bit lost for about a year just working and trying to find out where I fit into this world I heard about Cesar Chavez and the Grape Boycott. While I knew about it I really did not take any real active interest in the Boycott until 1968. At this time I was working for an electronics company in Palo Alto. A Mexican co-worker stopped me and told me about Cesar and what a great man he was for helping farmworkers to improve their lives. He had in his hand the Time Magazine article that featured the story about Cesar with the bunch of grapes portrayed as a skull. I actually remember telling him that I was aware of what Cesar was doing although I really had not kept up with the progress of the Boycott. After work I went to the community college where I was taking evening classes. I went directly to the library, found the New York Times index and located everything that had been printed about Cesar and the Boycott. I went religiously to this index and began reading everything I could about the Boycott progress and what Cesar was doing. I went to other newspapers and magazines to find out more about the Boycott. One evening I was approached by a young Chicano student who was a campus recruiter and a MECHA member. I told him what I was researching and he became very interested. Apparently my knowledge of the Movement impressed him and he invited me to come to the next MECHA meeting during the daytime to speak to the young Chicanos about the progress of the Boycott. It was at this point where I met Manuel Diaz, a student at Stanford University who happended to be visiting the community college in Los Altos, CA.
Manuel took me under his wing, took me to Palo Alto where I met a UFW community organizer, Kit Bricca. Kit quickly got me involved in the Grape Boycott in Northern Santa Clara County and in South San Mateo as we picketed Lucky Stores, Ernie's Liquours and other major grocery stores that were selling Thompson Grapes. We would meet often at the Lytton House in Palo Alto. This was the location that also served as the headquarters for the Institute for the Study of Non-Violence. Frequent visitors were Joan Baez, David Harris and other activists of the time. I saw many of these folks here as they strategized on anti-war campaigns and other important issues. Our small group of three actually went to the Lytton House where we were afforded a closet where we kept our flyers, our bumper stickers, Huelga buttons and other stuff. Two or three times a week, particularly weekends we would picket stores, hand out leaflets and talk to people about the Boycott. After a time, I began to elicit support from the MECHA students and the high school kids from local schools to come out and help picket grocery stores and liquor stores. I was able to get the support of St. Joseph's parish in Mountain View and pass out flyers to the parishioners on Sundays. I began to organize house meetings and get support from the Latino community and from representatives from community organizations. We educated people about the Boycott on an ongoing basis as we collected clothing, canned and dried food items. We also received checks and raised money from the buttons, bumper stickers and any thing else we could sell to raise money for the Boycott. Initially, Kit Bricca, the UFWOC organizer would take our donations to Delano as he made weekly visits there. In suceeding months, however, I would be the main person responsible for collecting the items, doing house meetings and coffees and getting these items to Delano. In 1969 I led caravans of cars going to Delano to take food, clothing and money to the farmworker's Forty Acres headquarters. Getting there was always a pleasure after being on the road for 3 to 4 hours. We were always welcomed warmly by Pete "Mr. Money" Velasco. We turned over the checks and cash to him and brought in our bags and boxes of clothing and food. I still remember the huge pile of boxes and paper bags filled with clothes that were in the Union Hall. Of course, we were all fed and rested from our trip. While many walked around the compound others would take time to meet the many other groups who came to Delano. In the early evening an impromptu program that included singers, musicians and other entertainers took place. These all preceded the presence of Cesar who we all looked forward to meeting and hearing. Often there were many ministers, local elected officials and members from other unions who came to support the Boycott. Cesar was always a delight to listen to as he formally welcomed everyone and gave us updates on the Boycott.
Many of the travelers we came with stayed overnight in the Union Hall in sleeping bags while others stayed with their relatives who lived in the area. Needless to say, we were all enthused and motivated by this great experience with most of us making lifetime commitments to La Causa. Perhaps in 1969 or 1970 our group from Northern California brought monthly caravans to Delano. My own organizing efforts continued in Northern Santa Clara County as I enlisted kids from high schools and the community colleges to support the Boycott. When I transferred to the University of California in Santa Cruz I became active with the MECHA organization but to a lesser degree as my studies did not afford me all the time I wanted to give. I gave my fair share but my focus was on another aspect of the Farm Worker Movement; writing papers on the History of the Farm Labor Movement in the United States, Labor Economics and the History of Immigration to the United States. At UCSC, I met Boycott supporters from all over California and the South West. We established speaker forums and continued to educate communities in Santa Cruz County about the Boycott. By this time the Lettuce Boycott was in full swing and as we were in close proximity to Salinas, we all participated in strategic meeting, marches and boycotts. At one point, possibly in 1972, Cesar came to UCSC to rally support for the Boycott. On this occasion I helped with security. I was asked to make sure that no one came on the ampitheatre stage where Cesar was speaking. A particular reported kept trying to get on the stage but I wouldn't let him. He became quite irritated. The following morning when I went to the University, students were calling me "Burly" and I couldn't figure out why. Later some students brought me a copy of a photo of me on the entry to the ampitheater. Cesar was in the background with Fred Ross and others. The caption in the paper stated "As Cesar Speaks at UC Rally Burly Bodyguard Keeps Watch. As I returned to Santa Clara County after graduating I continued my activism in support of the Farmworker Movement and with other Chicano Causes. At first I was a teacher at Mt. View High School, later went to work for the local Community Action Agency and later to Center for Employment Training where I have been since 1978. My activism and support of the UFW has never waned. I continue to march in key campaigns and made numerous trips to Delano and to La Paz. In San Jose, working at CET, I have had numerous occasions to be an active part of the Farmworker Movement. I represented CET at state, regional and national farmworker advocacy events. I got to know Cesar a bit closer, as this was his family's settling place in 1939. CET and Cesar were as one from 1967 to the time of his death. Cesar was a keynote speaker for every important Anniversary Celebration we had over the years. Cesar was a great supporter of our organization as we were great supporters of his organization. In the major marches we supported Cesar. Our fundraising efforts at CET always included the UFW as a beneficiary. We were there during his fasts, Marches to Sacramento, stood vigil when he was jailed in Salinas and attended his funeral at the Forty Acres. I have been active in San Jose continuosly for decades. After Cesar's death I became a member of the Chavez Family Vision, Inc. board of directors. Each year since his passing I have been active in local marches and events honoring Cesar with this organization which is composed of the siblings of Cesar. My most recent visit to Delano was on July 31st and August 1, 2011 as I attended the funeral for Cesar's brother, Richard. I continue to be close to the family and will forever be a supporter of La Causa. This year, on March 30 and 31, 2012 CET will commemmorate Cesar's Birthday with a student rally that features, Rita Chavez Medina, Cesar's sister as our keynote speaker. The following day, CET will host a breakfast honoring the legacy of Cesar Estrada Chavez with local dignitaries, public officials and friends. I look forward to these tributes.