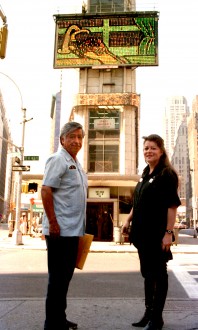 I began working with the United Farm workers while I was a student in 1976. Cesar spoke about dedicating his life to help improve the lives of farm workers.
I painted large convention banners, made protest signs and marched on picket lines. In 1989 I was one of several artists selected by Messages to the Public to have art displayed electronically on the Spectacolor Lightboard at Times Square in New York. Dolores Huerta urged me to fly to New York to publicize it. It was great advice. My work was a computer-generated animation entitled Pesticides! It was about farm workers and the dangers of pesticides on farm workers as well as crops and ran every 20 minutes for the entire month of July. Cesar Chavez had been in New York to promote Grape Boycott week; the UFW flag was atop City Hall, and there were events and press conferences with several union supporters and staff present. He introduced me at one of the events and asked people to make sure they watched the animation.
On the first day of the broadcast of the animation, Cesar said he was impressed with the message and how it was done. He was then interviewed on National Public Radio and spoke about my work with the union during the movement. It was very exciting and special to have Cesar there to support me as an artist.
Jocelyn Sherman took photos of Chavez and I standing in front of the Times Square Lightboard. It is my favorite photo of Cesar and I.