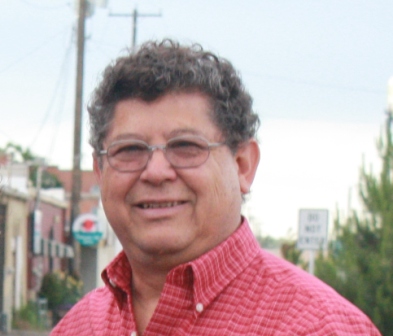 I was very troubled and at a lose about what I was going through. I had just returned from Vietnam, it was the summer of 1970. There was a lot of confusion in my life at the time. My ears were hurting; sometimes there was blood on my pillow when I got up in the morning (the nightmares had not started). After spending a week in the VA hospital in Boise, Idaho I was sent to a doctor for a hearing test and I was told that my hearing was OK. I still had pain and ringing in my ears.
My wife had found better pastures while I was away and had taken my young son and moved in with someone else. I was afraid of what I would do next and was just wondering around town when I saw a young lady handing out pamphlets on the corner. It was on Capitol Street just a few blocks from the capitol building in downtown Boise, ID. We started talking about the plight of the workers and the next thing I knew I was helping her hand out pamphlets and talking to people about UFW. It took my mind away from my problems and started me thinking about someone else's problems.
I had grown up with parents that were illegally in the US. When I was about four years old they had been deported to Mexico and they did not get their passports until 1960, I was 12 years old. We traveled north to Oregon to work as migrant workers in the sugar beets, onions, potatoes, corn, fruit and any farm work that we could find. We lived in labor camps, in shacks that weren't much more than a 10'X12'room with a two burner stove on one end and cots to sleep in. I knew what wages we had worked for and how it was just enough to get by. I started thinking about the plight of the migrant workers and it got me by; took my mind off my problems. I think things would have turned out very different had I not ran into that young girl and started talking about the plight of migrant workers.
I moved to Clarkston, WA remarried and started working for a company that was a unionized. I joined the International Association of Machinists, became a job steward, helped out as recording secretary, and later became an officer and helped negotiate union contracts for the workers. All this time I have been sending small donations to United Farm Workers and hearing about their fight for better representation, work conditions and wages for workers. If not for a chance meeting with a girl on a corner and thinking about the plight of workers my life may have taken a very different turn.
I have just retired from my company and from the union that helped me through 38.94 years of hard work. I have an 80% disability from VA and the Agent Orange that is causing a lot of my health issues. I still send my donations to UFW and I wish them the best and I would like to thank them for their work in making this a better place for the workers out there.
Bonifacio Dominguez Jr.
¡Si Se Puede! ®
You can visit my web sites at:
www.soundclick.com/bodie
Listen to "El Norte" lyric by Amando Alvarez, music by Bonifacio Dominguez Jr. This was written for a concert at Boise State University in 2010 celebrating the Latin influence in Idaho.
There is also lyrics by my friend the late Mike Puhallo and music by Bonifacio Domingues on "The Corrido of Jose' Maria Tresierra"
You can also go to www.myspace.com/bodiedominguez for tour schedule , music, picture albums and more.