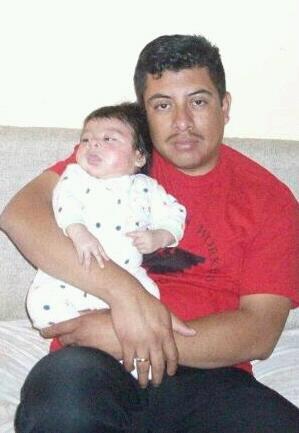 My story with the UFW all begins when one of my supervisors fires myself together with all my family from our job, his reason was that we signed an authorization card to be represented by the UFW.
That was only the beginning of my life as an organizer, because not only did I fight and struggle to get our jobs back, but right there ,and then was when I became a community organizer. Working with the community and churches, and as a volunteer for UFW.
In 2007, I became part of the Farm Workers staff. (UFW). Where my real and more serious compromise and commitment begun, with all the farmworkers. Where the hardest work has been taking that intimidation , and worries that they have about losing there jobs away. Turning those same farmworkers into stronger people with leadership skills and motivate them , and encourage them to show that they can be better human beings , and play a good role in this working community.
Today I can honestly say I have made part of the history the Farm Workers Union has made. To follow the compromise that Cesar Chavez has Set for us we have organized in the San Joaquin Valley an have developed many leaders as well as like in the Cesar Chavez era. I have seen " martyrs as an organizers. For example Maria Isabel Vasquez Jimenez. That passes away due to the injustices that her employer put her through. At that moment I walked from Lodi CA. To Sacramento CA.. In a pilgrimage where I lived the pain and sacrifice of our farmworkers.
In this last few years I have worked with the Farm Workers Union I have worked in many organizing campaigns, and political campaigns. The most satisfying and biggest treasure I need to admit is the shine of hope I see in the eyes of each farmworker that holds that hope of been represented by the Farmworkers Union.
At the moment we are negotiating new contracts in the San Joaquin Valley. Which in 2012 we will have hundreds if not thousands of new members beings represented by the UFW.
Cesar Chavez is my guide. He I my role model. My inspiration. I say that with the greatest pride. I carry the eagle our logo in my heart. I carry the red flag very high and with great honor. To make history for our Union to never end. Que Viva la Union de Campesinos- LET FOR ALWAYS LIVE THE UNION OF OUR FARMWORKERS
"SI SE PUEDE"
"YES WE CAN "