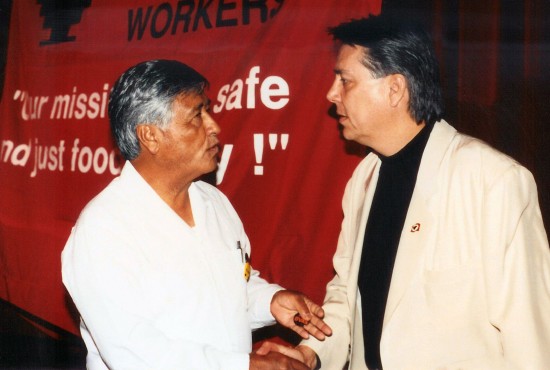 I was privileged to have known and worked with Cesar the last few years of his life.
He and my Dad, Lalo Guerrero, had known each other for many, many years going back to the 1950s. But, I didn't meet Cesar until he guested on a TV talk show I produced in the early 1990s, El Show de Paul Rodriguez.
Dad used to travel with his band in the 1950s and that included through California's Central Valley. A young Cesar used to go to Dad's dances wherever he played in the area and they became friends. Cesar used to give Dad advice about where and when to take the band. "Lalo, Tulare in July. Grapes." Or "September, the Central Coast, lettuce." This was long before the UFW, but Cesar knew that world. He knew where and when the campesinos would be working and wanting to have a good time after a long, hard week in the fields. So, Dad used to book his tours according to Cesar. Dad used to say, "Well, I guess you could say Cesar was my booking agent through fruits and vegetables." Dad tells that story in the documentary I produced with Nancy De Los Santos, "Lalo Guerrero:The Original Chicano." A treasure to have it on video.
It took me two years to get Cesar on El Show de Paul Rodriguez. Guess he wasn't into talk shows. I finally mentioned it to Jocelyn Sherman and bingo. At last. Cesar agreed to do the show. He wanted to give away VHS tapes of "No Grapes. No Uvas." I asked if he was sure since we had such a big television audience and that could be costly, the mailing alone. "No, I want it to be available to all," he said. And he said they were prepared with brand new telephone lines and all kinds of stuff. He called me after the airing to say the response had been incredible and, I recall, blew out a lot of the new telephone lines because of the large number of callers. He was suddenly into talk shows and asked if I could get him on some others. I called friends at some of the other talk shows on the English language networks and went to a couple of appearances with him. I was very glad to return that long ago favor when he helped Dad with bookings.
When Cesar passed so suddenly in 1993, I was asked to get Latino Hollywood up for the funeral. I got a school bus donated and off we all went at dawn: Eddie Olmos, Cheech Marin, Paul Rodriguez, Dad and so many others. A difficult but amazingly beautiful experience. I was always in awe of Cesar. Proud to know him.