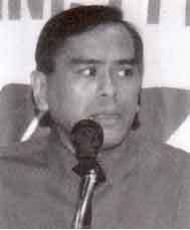 My start was working as a volunteer construction worker on Agbayani Village. I was amazed that people came from all over, to help build the retirement home for aged farm workers. It one day when was when I was working on a hot summer day on the roof, & came down a ladder when I first encountered Cesar, who was w/ his dog kind of just looking around, before a night meeting. It would be the first of many encounters. 40 Acres was subject to attacks, and threats by another union (being diplomatic here), so the crew often slept in trailers near the construction site. And although the UFW was non-violent, because of a fire bombing, we did shifts overnight when we carried shot guns for personal, & property protection.I am told that my name is on a plaque there, and some day maybe I'll get to visit. When I left I took a little dog from the nearby dumps,who I named Huelga back w/ me to NJ.
It was later in the 70s, and I was drawn to help on the grape, & lettuce boycotts in NYC. Got turned on by Brother Irv's unlimited energy, and started to help out more frequently, ended up staying in the W. 84th Street brownstone when staff were away. We did a lot of picketing and handing out boycott flyers.
And when Cesar came to NYC we got to get him to events, w/ my helping out w/ security. Later because I was a former college newspaper editor, and news director @ a 5000 watt college radio station, I was asked to help out w/ media.
It was then that I got to sit in a basement dining area to sit w/ Cesar & go over what was already planned like appearing on Geraldo Rivera's late night show, to doing a press conference; & I would later add things like arranging an interview w/ the NY Daily News, appearance on a local tv news show, and a couple of radio programs, etc.
Both shows btw were on WABC-AM the now flagship for the Limbaugh, Hannity shows, etc.One was w/ a liberal host, the other that I could get was w/ a super conservative, Barry Farber. Many on the staff thought it would be crazy to go on. But Cesar went along w/ my recommendation; they sweated; and I was outside of the studio w/ fingers crossed—-and in the end it turned out to be a love fest. W/ the host being a fan of Cesar's. And me gaining Cesar's trust.
In addition to regular picketing, leafleting and assisting w/ NYC events; I again advised on media when Cesar was in town for major events; and on a Madison Square Garden concert, where I made the rounds w/ the entertainers to NY-NJ radio studios, where they'd talk about their music & I would pitch the UFW & attendance. After the event I made a couple of lasting good friends, one being the late great Otis Blackwell who wrote songs like Fever, All Shook Up, Great Balls of Fire, Handy Man, etc.
I then was convinced to travel by car from NYC to Calif. w/ other crazy NYers to work on Prop 14. I was assigned to San Diego, and organized on campuses, etc., and again would help on security when Cesar was @ a rally, etc.. We had a top notch crew led by Scott and Dave (Dyson, recently retired as a Brooklyn pastor), and Jose Feliciano's cook. It was a blast to do human bill boarding w/ the farm workers, some that spoke no English, but when we had meetings some of those same farm workers, I remember big Renaldo would cry like a baby when we got up to tell our little story, and it would be translated.
In many SD area Chicano bars if we stopped in for a couple of pitchers of beer, during the rare times off, seeing the UFW buttons, we would get a lot of pitchers on the house. The staff also had some great beach bonfire times, and got to travel to the sandy white beaches of Mexico.
It was @ that time that I got to attend Cesar's daughter's wedding, and other amazing events.
Going back to NY, there was a time that I was briefly on staff, as w/ Prop. 14 helping on the NJ boycott, where we lived in E. Orange, NJ.
As my next assignment it was organizing for an Irish Folk Festival, that's right an Irish Folk Festival, w/ NY Daily News legend Jimmy Breslin, and Tommy Makeem, Liam Clancy & the Irish Balladeers. Where once again my job was to get professional radio ads to be made for NY, Long Island radio stations, etc. And although we had a small crew, and lived out on LI, we had a huge amount of help from the late Dick O'Keefe, a highly influential labor leader, that seeing we were small, worked for a couple weeks w/ us almost f/t 2-3 days a week. Dinners were always on him.
And speaking of dinner, although Cesar was not to be a part of the concert, he was here on business; I got to go w/ him & a couple of the ladies to Pancho Villa's Restaurant, as the owner was a godfather to one of Cesar' kids. It was a great night, as we didn't have the normal security, or need to keep checking our watches.
There is so much more that I can talk about like our annual marching in NY's Labor Day Parade; to sitting in for Cesar at a big fancy Central Labor Council dinner w/ the Gov., to just all of the memorable fun & learning that I experienced.
I used much of what I learned later in life both in business, & non-private companies; and in my work w/ other political groups.
I will miss brother Cesar, like all that are posting; but counted it as a blessing that I broke bread w/ him more than once; learned from him & was proud that on media matters he trusted my youthful advice.
I know that someday i'll see him again; and see all of the crowns that this humble man has accumulated in Heaven; for all of the lives that he touched.
GOD BLESS THE UFW!