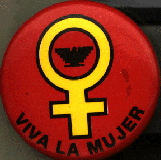 My parents and family lived the beginning of the struggle in the table grape fields in Delano, CA. Some of them were arrested during a strike in the table grapes fields of Kern County. My mother gave birth to one of my sisters at "Rodrigo Terronez Memorial Clinic" in the forty acres.
In 2005 I became part of the United Farm Workers in Delano, CA "40 acres" as Volunteer recruited by my sister Erika Oropeza - Organizer. I experienced many things like; taking access in Giumarra, house meetings in Earlimart, CA. After looking the farm workers of Giumarra Vineyards, fighting for justice after long years of abuse, discrimination and the miserable conditions. I decided to continue supporting farm workers movement because of their hope and power to change their lives.
In 2006 I was recruited by Armando Elenes to join the UFW Delano office staff as Administrative Assistant/data entry clerk. The time I spent working in the office, was very interesting to be able to help our farm worker community and members.
2009 I had the opportunity to start a new path in the struggle as an organizer. For me it's an honor to work with farm workers to help them improve their lives and working conditions.
I would like to thank my family, husband and daughter for supporting and believing in me and the movement of the UFW.
Organizing is the Solution!