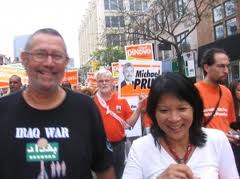 In the early fall of 1965, five of us had formed a small community based upon Christian and political beliefs. Dick Bunce and I had been students at Princeton Theological Seminary and my wife, Linda Page, was studying for her doctorate at Princeton University (Linda and I lived in sub-par married students' housing at the Seminary because, her not being the "head of the family," we were not eligible for the much better married students' housing at the University!). The other two in our group were Lew Fretz, who had obtained his doctorate at Princeton, and his wife Margaret.
We had decided to leave the east coast and settle in California, where we intended to become involved in civil rights and anti-war activities. I had spent a summer in D.C with the National Council of Churches office on Capitol Hill and was aware, as few were, of the U.S, involvement in Vietnam.
We crossed the country in my 1959 Volkswagen van, heading for San Francisco, with the L.A. area, where I had grown up, to be our final destination. We left the Bay Area and spent a day in San Jose, where we stopped by a local Presbyterian Church. They told us about a strike of farm workers in the Delano area, which had been going on for some time but nobody knew about it because of a news blackout. We were asked to load up our van with food supplies the church wanted to donate to the strikers.
When we got to Delano on our way south, we sensed a red neck attitude in the town and therefore were careful in our attempt to locate the strike. After a few circumspect inquiries we were led to a small hall where a meeting was going on. When we told them why we had come, we were welcomed like heroes and asked to speak to the meeting, which I did in my halting high school Spanish. After the meeting, a young man took us aside and told us we were in the Filipino Hall and that he would take us to the "real" huelga. That is how we came to meet and be filled in by Dolores Huerta and others from the United Farm Workers.
Our small communal group ended up settling in Pacoima in the San Fernando Valley, where we became involved with the Pacoima Congregational Church, whose minister was a self-proclaimed progressive and welcomed our participation (this welcome was eventually worn out due to our uncompromising radicalism, which became an embarrassment when we picketed our own Church for its failure to condemn the Vietnam war).
Some of the more social minded members of the church became our allies and joined with us in our activities. This included Pete Flint, who had a history of activism going back to infamous Paul Robson concert in New York; Tom Lasswell, a campus pastor at Valley State College, and his wife Mary; John Buchanan, a professor of speech at Valley College, his wife Eleanor and daughter Pam, and Elizabeth Canfield, a pioneer in the movement for women's reproductive rights
We formed the "San Fernando Valley Friends of the Grape Strikers," and we picketed Ralph's supermarkets in various Valley locations. We were given a $100 dollar donation by the very talented politically active TV personality, Steve Allen, which was a lot of dough in those days and got us started. To draw attention to the strike, we organized an event that we dubbed a "Grape Stomp." We rented a flat bed truck, got a hold of a large galvanized tub, purchased "union picked" wine grapes and had ourselves a good old fashioned grape stomp. There was minimal media coverage, but we did get David Horowitz to pan us. We also participated in the march to Sacramento.
I like to think that we played a small part in the success of the Boycott. We had made a very deep emotional and political commitment. For some of us, my own mother for example, even long after the boycott was lifted, we were not able to bring ourselves to buy table grapes or ice berg lettuce.
For my anti-Vietnam War resistance, I ended up living in Canada, became a Canadian citizen, and was elected to serve on the Toronto City Council from 1987-1995. Somewhere during those years, a day in Council was dedicated to the memory of the fact that the Toronto Council back in the 1960s was the first governmental jurisdiction in North America to endorse the Boycott. The UFW banner flew over City Hall that day, and we were honored by a visit from Cesar Chavez, whom I had never had the chance to meet during my visits back then to Delano. I shook his hand for the first and last time, I told him our story, and we spent a few delightful minutes reminiscing over "the good old days."