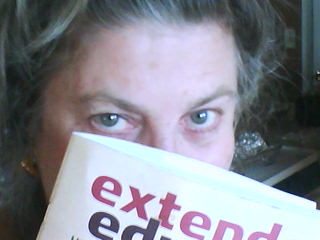 My story is a long one, woven over decades of dedicated service to the cause of creating a better world where all, regardless of social status, race, religion, or the color of skin, eyes, or one's accent when speaking English can expect the opportunity to live freely and openly in the United States of [North] America knowing that the seeds sown through arduous labors will be harvests known by all, most especially those hands that worked the fields.
As long as my story's threads can be traced, my own is of little import in contrast to the stories woven in and out of my story by the stories of those whose lives and labors. The cause of Cesar Chavez had already become my family's own long before this great leader put his capable, smooth, sun-bronzed had in mine. My father standing next to me approached Cesar at the Labor Day picnic at Rhor Park in Bonita, San Diego, California. It was a hot day. The undulating tomato fields of Otay Ranch that our family of seven had driven through in our Sunday best from Chula Vista to be here to meet this man of integrity scented the air under the rustling of the immigrant eucalyptus.
That handshake—the handshake of two old souls—I feel still.
I have dedicated my life to the cause. Through my efforts as The Amnesty Administrator and Teacher for the Amnesty Program in the 1980's here in Eureka, California I humbly received the greatest gift of seeds sown grown through to harvests reaped and know by giving my students the opportunity for a life of freedom to live without fear of deportation and the right to obtain citizenship in the country where all who shop for food in the glistening aisles of supermarkets would honor and respect the arduous labors of those hands that made the supermarkets' bounty possible.
Each and every human being merits respect, peace and freedom. Cesar's cause is my cause still, though in today's world I am weary and feel my life's work unraveling as fewer and fewer of us have enough to put into our work-worn sun-burnt hands to sustain our bodies and spirits just in order to live until another dawn arrives…
Yes, I too want <
>for myself as well as all the rest. I wish to live in dignity instead of despair, to eat food I know I have grown or that has been grown ethically and responsibly. I merit freedom from fear, yet old age and gender bias as well as poverty shroud hope. The remembrance of Cesar's hand in mine rekindles my sense of possibility, even if I comprehend I, by circumstance and sheer mental and physical exhaustion may likely never know the beauty of the fruition of Cesar's cause: Seeds Sown and Harvests Known.
As I sit weaving the stories of the thousands of students' stories into the legacy of my dwindling luminescence, I remember Cesar's hand in mine: he held it long and our eyes arced, light to light, soul to soul, affirming our lives would ever be dedicated to the Cause: Peace and Amnesty, Dignity, Respect and Freedom.
Dawn Mary Mulderig/Maestra Dawn, April 23, 2013, Eureka, California