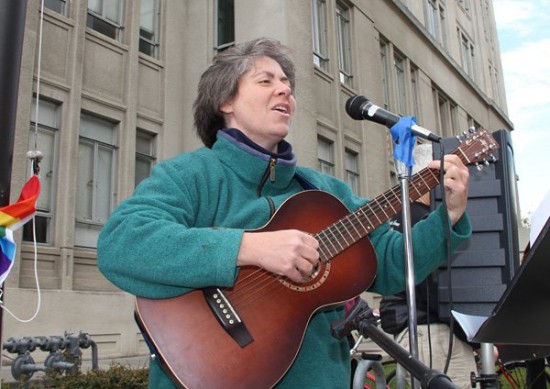 Remembering passing by the grapes in stores as my mother observed and supported the grape boycott in the 60's, in the late 80's I remember singing at a rally in San Francisco where we sang a rewritten song: I Won't Eat a Grape for Breakfast.
Later, living in the Sonoma Valley, as my kids and I became sicker and sicker, and my neighbor and I came to realize our whole neighborhood was full of cancers; thyroid problems, and death at every turn, we formed Sonoma Pesticide Alert. It later morphed into East Bay Pesticide Alert aka Don't Spray California (www.dontspraycalifornia.org) and we are about to rename again better to represent the fact that we serve all, not only Californians. We are in the middle of working to make the website more organized. Soon we will be accessible as PesticideAlert.org, too).
For years I photographed daily drift (a few of those photos are on the site) and daily saw workers in the fields completely unprotected even as cropdusters dumped poisons from above, not that they were any safer with these poisons applied other ways, and photos shared when I spoke with parents' groups and many groups, livingroom by livingroom, and at events we organized, helped people understand that where pesticides are applied by any method, drift occurs. When a couple of us attended a UFW meeting in Santa Rosa, we were sad to learn that pesticides were of little apparent concern as they were struggling for fair wages. Facts about the reality of pesticide drift we've driven home for decades to help people understand that where farmworkers are the front line, and are not represented in any numbers of pesticide sicknesses noted by OSHA, anyone living in an area of pesticide use, or working or visiting, is being poisoned.
The only answer is to stop the use entirely and shift everything in our society to put the worth where it has to be: Life, humans, animals, insects, vegetation. We need to find our place within the web of life, not continue trying to dominate it.
What a glorious world it will be when every worker in the fields works with decent pay, safe housing, with dignified and sanitary toileting and food opportunities during the hot working days and cold nights. It's all possible, but the UFW needs to stand up and work more on stopping toxic pesticide use, and refuse to "do business" with any pesticides group that accepts the use of toxic pesticides under any circumstances, ever (check the funding stream).
If we need any bills, it's not to "reduce" use, but to help economically so that toxic growers can become farmers, and all are supported when there are stressful weather and other conditions which cause imbalances leading to crop losses, a normal part of farming, at times.
Maxina Ventura
beneficialbug@netzero.net