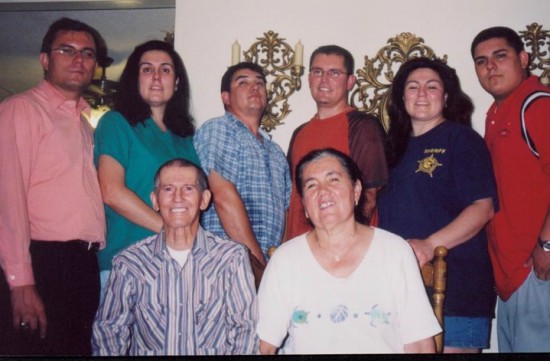 My Apa, came to el Norte as a bracero teenager, he spoke of the lines at the bracero camps, the times he was without food, the way the Patrones treated him when he worked in Iowa, Minessota, Michigan. Then he told us about a man named Cesar Chavez and how things in California were diffrent because of him.
When I was growin up we spent our life between living in Mexicali, Baja California and going upt north past LA as farm workers. We were truly a migrant farm working family. We lived out of our truck, homes lent by the patron, barracas, trailer homes and even abandonded homes. My Apa and Ama spent many seasons in barracas, while we were at home with our Tia taking care of us. As we got older, 10 or 11 years old we would spend the summer working with them to earn school clothes money.
I remember helping my Ama make a big big red flag with a black eagle in the middle. I didn't know what it meant but I was so happy to walk with her and the other ladies down the streets of Coachella, CA as they carried my Ama's flag. I knew it was for the Huelga and that meant if we got the "contrato" my parents would make more money.
My parents would say that walking with Cesar Chavez meant they would have clean drinking water, it meant they could take a lunch break without the Mayordomo yelling at them, it meant they could bring the sacks for the crops closer to us rather than walking across the field to drag back to the line, it would mean a better salary. My Apa would say "nos van a tratar como gente no como animales".
We settled in Imperial Valley in the early seventies. I remember gathering at the Hoyo in Calexico as we waited for work. We gathered there for meetings. We gathered there for Masses and prayer before every Marcha. I was in grade school during the 1979 shooting of a Farm Worker in the Maggio farms. I remember being so afraid my parents were going to be killed. My Apa said, it would be worth dying if he died for La Causa. Now as an adult I still cry when I think of that man being killed. He is an American Hero.
My Ama kept us out of school one day in protest. Our principal was so mad! My younger brother was reprimanded in school because he missed school. But I know we did the right thing.
I remember getting to go to the dentist because of the heatlh coverage we got under the UFW.
My parents have a pension because of the UFW.
When I was in medical school, my Apa sent me a picture of him with Cesar Chavez in one of the last Huelgas he marched with Cesar. I value that picture so much.
My parents devoted their lifes to ensuring a successful future for us. There are six of us. We have one AC/Heat technician, computer programmer, teacher, counselor, sheriff officer and doctor. We acknowledge our success to the upbringing of our parents and to their support of our education. Their involvement and support of the UFW and Cesar Chavez has been instrumental in our success.
I am proud to be the daughter of a UFW farm working migrant family and a testament to the importance of Cesar Chavez and his legacy.
Viva La Huelga!
Viva Cesar Chavez!