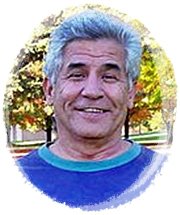 I did in fact walk alongside Cesar Chavez during a demonstration in Saticoy, California. I lived in nearby Oxnard where I used to pick lemons, in '65. Before my family moved to Ventura County, California, we picked cotton in South Texas for awhile. We were poor, and I always related to the plight of farmworkers everywhere we went.
I protested in front of Safeway a few times, in support of UFW boycotts, and once, I even travelled to "40 acres," to help with roofing on UFW buildings there.
Mostly, I supported UFW on campuses, as a college student on the G.I. Bill. We would organize rallies and fundraisers, to help UFW, as best we could: at Ventura College, Long Beach City College, Cal State Northridge and Humboldt State University where I attended. Even while attending law school, I took the time to help UFW, at Ventura County rallies.
I will never forget how inspirational Cesar Chavez was in my life way back then, and to this very day. Between him and Martin Luther King, we had the greatest of hopes that life would improve for all Latinos, as we struggled like them for a better world, but look at the world now.
Many of us have not stopped fighting for equality and justice, but many have, and we need so many more young people to take our place, as we leave this world for the next. No one should ever forget how much Cesar and Mr. King sacrificed for us. None of us should sacrifice any less until the job is done.