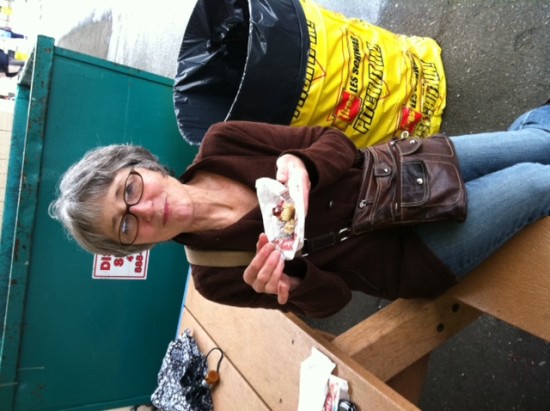 I got involved in the Farmworker Support Group in Seattle Washington around 1991 or 1992. Our group supported the desire of the farmworkers in eastern Washington who worked for Chateau Ste. Michelle Winery, to have a union election. This was before the farmworkers in Washington State were members of the UFW. But I do believe they joined the UFW and were members by the time they won their union election.
The boycott had been ongoing for many years before I joined it. When I got involved our focus was on getting the membership of Puget Consumer Cooperative, a small local grocery chain, to pressure the Board of the Co-op to stop carrying Chateau Ste. Michelle Wine. We succeeded in getting them to put up point of sale information about the boycott.
We then focused on getting restaurants in Seattle to stop carrying the wine and we did get Ivar's, a very popular local chain to offer inserts in their menus about the boycott of the wine. And I do believe several other restaurants also stopped carrying the wine but I don't remember how many exactly.
For years we also picketed in the summer at the winery's concerts in Woodinville, a town east of Seattle. We handed out information about the boycott and said, "Enjoy the music! Don't drink the wine!" We once held a massive picket with the help of Jobs With Justice and many other Unions there and we got alot of publicity every summer for those actions.
We also picketed outside the home of Alan Shoup,the CEO of Chateau Ste. Michelle. Actually, he lived in a gated community called the Highlands, so we were outside the gates and would offer anyone driving in a flyer explaining the boycott.
Because the farmworkers just wouldn't accept that their company wouldn't grant them a union election and because their support groups just wouldn't go away, the company finally granted the workers an election.
It was grand! I couldn't be there but I have pictures!
Sincerely,
Mary Ann Schroeder