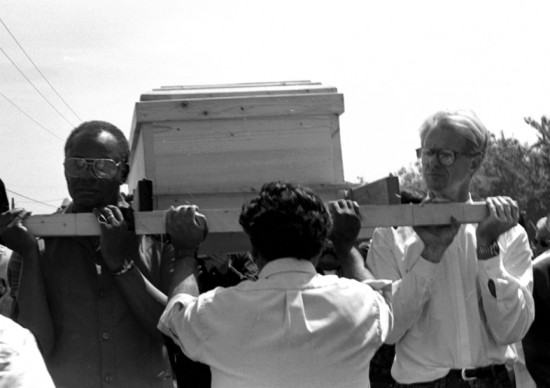 I had long supported the UFW and Cesar Chavez, by holding fast during the grape boycotts & the lettuce boycotts of the 60s & the 70s. But now it was the 80s, and I had become immersed in environmental issues.
So, I stopped at a restaurant on Sepulveda on the way to LAX and a man gets out of a very modest car with another man, and one of them looks a lot like Cesar Chavez.
But, it couldn't be him. No entourage, no security detail. Such a modest car.
But, when he walked past my table, I saw that it was him. So, I waited till he ordered and was waiting for his meal and went over and I admired him, and how I helped from a distance many times over the years.
He asked me what MY passion was, and I told him it was the environment.
He said "That's wonderful. It's a very noble cause to do your part to save the whales, and the owls, and the trees….but what about the people?"
We talked about the kids who had gotten sick in McFarland, Earlimart & elsewhere. He was impressed that i knew some of them by name.
Thus began an 8 year relationship that enabled me to work with this great man on pesticide issues, and eventually many other matters of social & environmental justice.
A relationship that continued till I had the sadness and the honor of carrying his coffin through the streets of Delano. Along with 50,000 others.
I continue to work with my current hero and dear friend, Arturo Rodriguez on UFW matters, and will do so till I am carried through the streets.
Nunca Te Olvidare!
I will NEVER forget you Cesar.
Ed Begley, Jr.